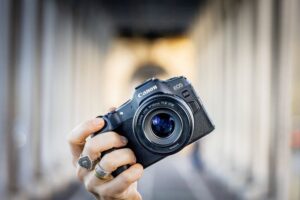 Canon, the leading provider of innovative cameras and lens technology, has announced their newest addition: The Canon EOS R8 full-frame mirrorless camera. Packing an impressive array of features into an incredibly small package, the Canon R8 is poised to revolutionize the industry for those content creators looking to break in.
The Canon R8 comes equipped with a 40.3-megapixel full-frame CMOS sensor and Digic X image processor for providing high-quality images with accurate colors and excellent detail. Its native ISO range has been extended to an impressive 102400, allowing creators to shoot in challenging light conditions and still get great results.
https://youtu.be/iYMhSnQ1288
This camera packs a range of features designed to make capturing stunning images and videos easier than ever. It has an advanced autofocus system powered by Canon's proprietary dual-pixel CMOS AF II technology, for smooth, accurate tracking with fast and reliable accuracy, even when shooting in low light. It also has up to 10 fps continuous shooting and an electronic shutter with a maximum speed of 1/8000th of a second.
In terms of video, the Canon R8 has 4K at 30/24/25 frames per second oversampled from 6K, and Full HD up to 120 frames per second, allowing you to create stunning slow-motion footage. It also comes with a time-lapse mode, digital image stabilization, and a flat picture profile to give you the flexibility you need to get creative.o
In addition to the features already discussed, the Canon R8 has a range of intuitive new features. Its Multi-Function Bar and Touch Bar make changing settings and shooting parameters quickly and easily. It also has built-in Bluetooth and Wi-Fi with NFC, allowing you to connect to other devices and easily transfer your images and videos.
The Canon R8 is the perfect camera for anyone looking for the highest quality images and videos in the smallest and lightest package possible.
The R8 is available for $1499 body only or $1699 with the with RF 24-105mm f/4-7.1 IS STM kit Llens