In the ever-evolving world of smartphone filmmaking, one app has consistently stood out as a game-changer: FiLMiC Pro. Known for its professional-grade features and uncompromising commitment to quality, FiLMiC Pro has been a staple for filmmakers, content creators, and aspiring videographers. However, when it transitioned to a subscription model of $50 a year, many creators hesitated. Now, with an exciting "Back to School" sale price of just $19.99 (approximately 60 percent off), it may be the perfect time to revisit the idea of subscribing to FiLMiC Pro.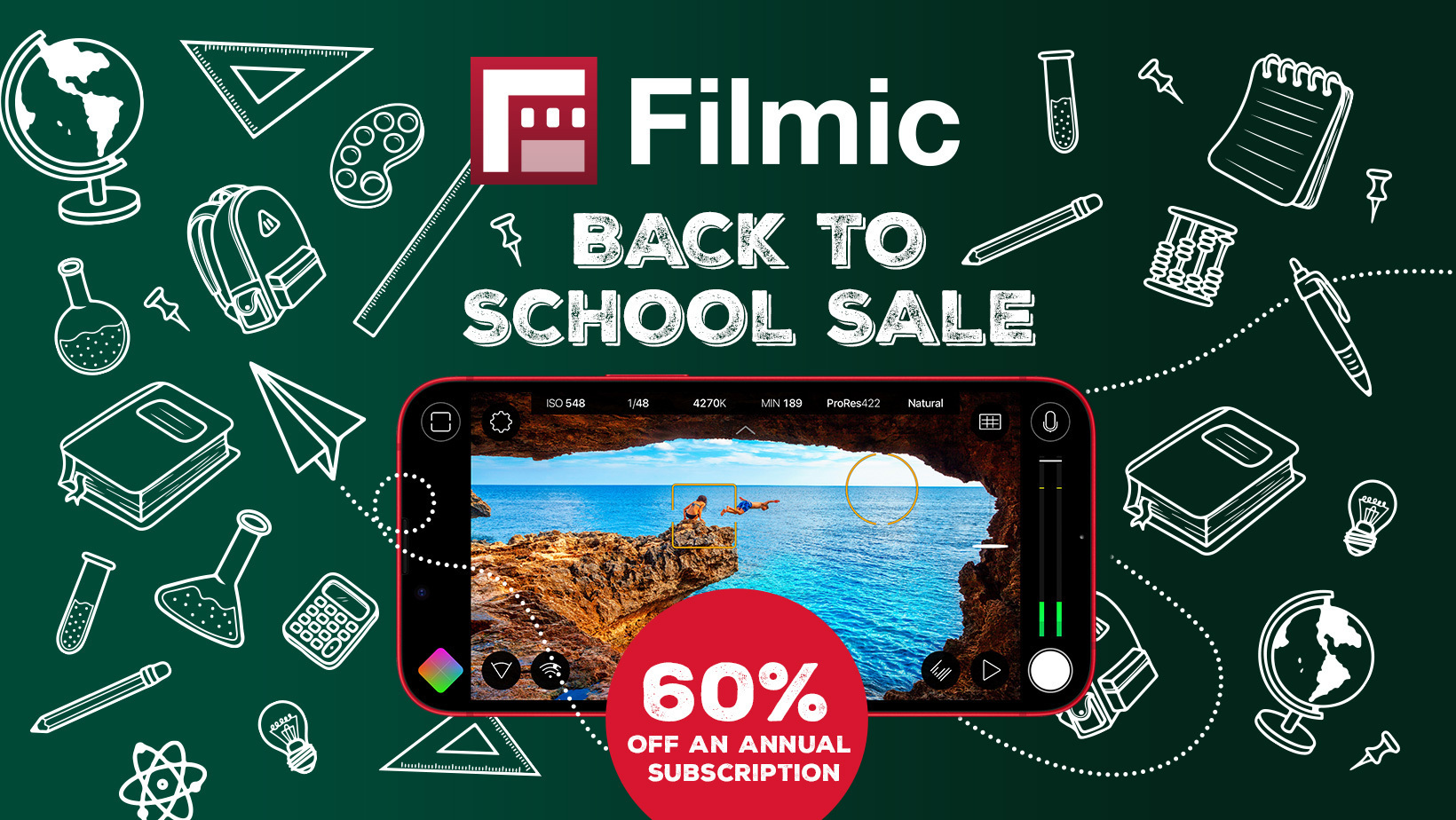 FiLMiC Pro has garnered a reputation as the go-to app for those seeking to harness the full potential of their smartphone cameras. It offers a plethora of features that rival even some high-end standalone cameras. Here are some of the key reasons why FiLMiC Pro is a must-have for any aspiring filmmaker:
1. Manual Controls
One of the standout features of FiLMiC Pro is its manual control options. Users can adjust focus, exposure, white balance, and more with precision, giving them unprecedented creative control over their shots. This level of control is simply not possible with the native camera app on most smartphones.
2. Cinematography Tools
FiLMiC Pro provides a range of cinematography tools that can elevate your footage to a professional level. Features like focus peaking, zebra stripes, and waveform monitors assist in achieving perfectly composed and exposed shots.
3. High Bitrate Recording
With FiLMiC Pro, you can record videos at significantly higher bitrates than standard smartphone apps. This results in higher video quality with more detail and less compression artifacts, making your content look truly cinematic.
4. Multiple Frame Rates and Resolutions
Whether you're shooting in 24fps for that classic cinematic look or need slow-motion footage at 120fps, FiLMiC Pro offers a wide range of frame rates and resolutions to suit your creative needs.
5. Audio Control
Good audio is essential for any video production, and FiLMiC Pro doesn't disappoint. It allows users to monitor and adjust audio levels in real-time, ensuring crystal-clear sound for their videos.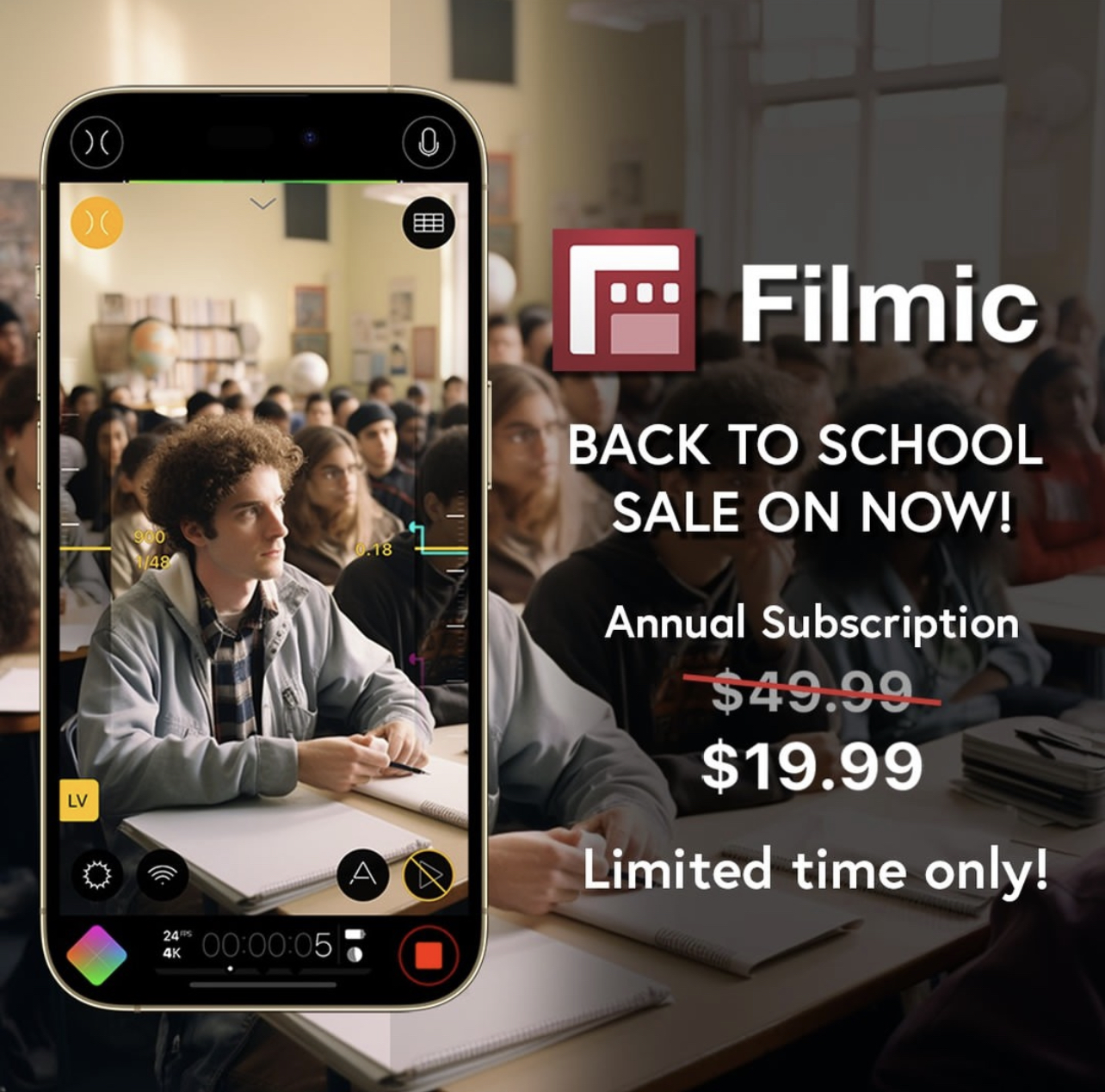 FiLMiC Pro's Subscription Model
Until recently, FiLMiC Pro's subscription model, priced at $50 a year, caused some creators to shy away. While the app undoubtedly offers immense value, the recurring cost was a point of contention. However, with the current sale price of $19.99, FiLMiC Pro is making a strong case for its subscription.
Revisiting the Value
For those who may have hesitated due to the subscription cost, this sale is a golden opportunity to reassess. At just $19.99, FiLMiC Pro offers a substantial discount, making it significantly more accessible.
A Learning Opportunity
For beginners, FiLMiC Pro is an invaluable tool for learning the craft. It allows users to experiment with advanced settings and techniques, gradually building their skills without the need for expensive equipment. This sale opens up a world of learning possibilities at a fraction of the cost.
Expanding Creative Horizons
With FiLMiC Pro, your smartphone becomes a versatile filmmaking tool. You can capture breathtaking visuals, experiment with different styles, and tell your stories in ways you never thought possible. At this sale price, it's an investment in your creativity.
Future-Proofing
As smartphone technology advances, so does FiLMiC Pro. The app receives regular updates, ensuring compatibility with the latest smartphone models and operating systems. Your investment in FiLMiC Pro will continue to pay off over time.
Final Thoughts
FiLMiC Pro's current sale price of $19.99, a substantial 60 percent discount, is a compelling reason to consider subscribing to this powerful app. Whether you were initially deterred by the subscription model or are simply looking to upgrade your filmmaking game, now is the time to seize the opportunity. With FiLMiC Pro, you can unlock the true potential of your smartphone camera and elevate your filmmaking to new heights.
And although, technically, FiLMiC Pro calls this its annual "back to school sale," they do say that we're all lifetime learners and anyone can subscribe at the  sale price  Don't miss out on this limited-time offer. The sale in September 4, 2023.