DJI has unveiled its latest and most advanced consumer drone yet, the Mini 4 Pro. This miniature UAV is packed with a plethora of cutting-edge features, including a redesigned camera with Dual Native ISO, omnidirectional object sensing, and extended battery life.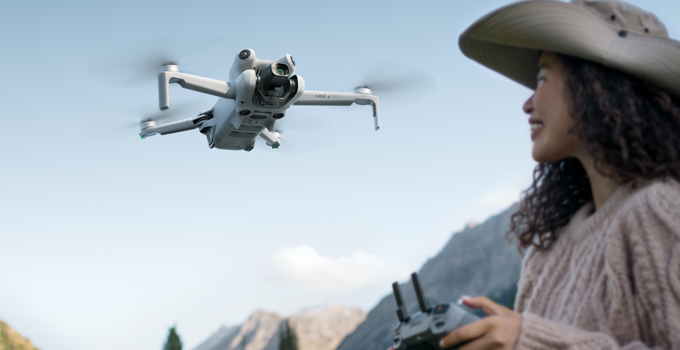 Enhanced Camera Performance
The Mini 4 Pro's camera is a significant improvement over its predecessor, the Mini 3 Pro. It features a larger 1/1.3 inch CMOS sensor with 2.4μm 4-in-1 pixels, allowing for exceptional dynamic range in low light conditions and superior highlight and shadow detail. The camera also has a wider f/1.7 aperture lens that can be adjusted vertically, making it ideal for capturing both vertical video and still images for social media enthusiasts.
The Mini 4 Pro's video capabilities are equally impressive, offering 4K HDR video recording at up to 60 frames per second (fps) and 4K 100 fps slow-motion video. Additionally, it provides recording options in DJI's D-Log M or Hybrid Log Gamma (HLG), offering a vast color range and enhanced editing flexibility.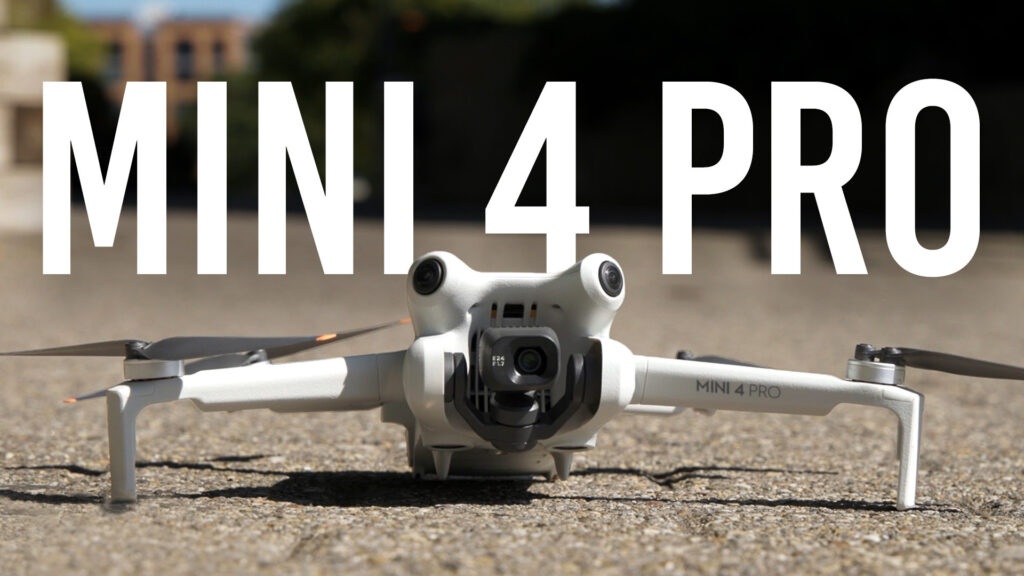 Versatile ISO Range and Night Mode
The Mini 4 Pro's Dual Native ISO Fusion feature enables an ISO range of 100-6400 in normal mode, which extends to 12800 in Night Mode. This Night Mode incorporates an improved noise reduction algorithm for clearer, more detailed footage in low-light conditions, making it an ideal choice for professional-level post-production editing and color grading.
Seamless Slow Motion and High-Resolution Photography
Unlike previous models that downscale slow-motion footage to 1080p, the Mini 4 Pro immerses users in 4K quality for every frame captured at 100 fps. Furthermore, it boasts the ability to capture still images at a remarkable 48 megapixels in RAW format, with HDR imaging and scene recognition, ensuring precise details and vibrant color shades.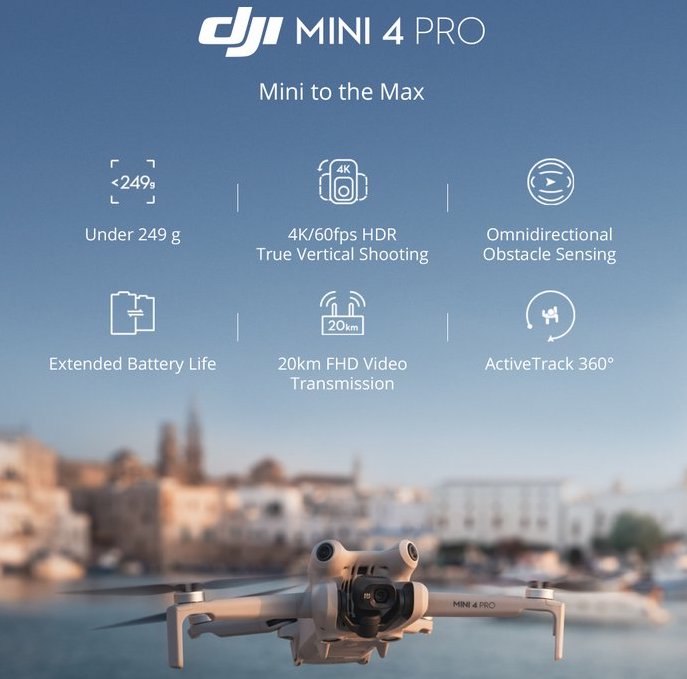 Cinematic Flight Modes and Video Transmission
The Mini 4 Pro offers three cinematic flight modes—Spotlight, Point of Interest, and the innovative Active Track 360°. Users can fine-tune their shots with a touch-sensitive trace wheel interface, achieving cinematic-quality aerial photography. With DJI's O4 Video Transmission protocol, the drone can transmit the camera's video signal in smooth 1080p/60fps Full HD live feed, reaching distances of up to 20 kilometers.
Additional Features for Creativity and Safety
Beyond its remarkable camera capabilities, the Mini 4 Pro offers an array of modes, including MasterShots, QuickShots, Hyperlapse, and Panorama. A Quick Transfer mode simplifies the process of sharing original camera files directly to your smartphone without linking the remote controller.
The drone also incorporates omnidirectional object sensing technology, utilizing sensors placed around the aircraft to identify and avoid obstacles effectively. The Advanced Pilot Assistance Systems (APAS) further enhances safety by leveraging four wide-angle vision sensors and two downward vision sensors, creating a protective sphere around the drone. This enables automatic braking and navigation to circumvent obstacles.
Enhanced Flight Control Options
DJI's flight control modes provide a range of options, including Waypoint flight, Cruise Control, and an Advanced return-to-home feature. Waypoint flight's automatic route function ensures precise route replication, while Cruise Control reduces operator fatigue during extended flights, resulting in smoother camera movements. The Advanced return-to-home feature plans a safe flight route back to the drone's take-off point, easily bypassing obstacles. The AR RTH route feature adds confidence during return flights.
Extended Battery Life
Despite the introduction of numerous cutting-edge features, DJI has successfully maintained the drone's lightweight design. Furthermore, they have managed to increase the flight time, offering users up to 34 minutes of flight time with the standard battery and up to an impressive 45 minutes with the new Intelligent Flight Battery Plus.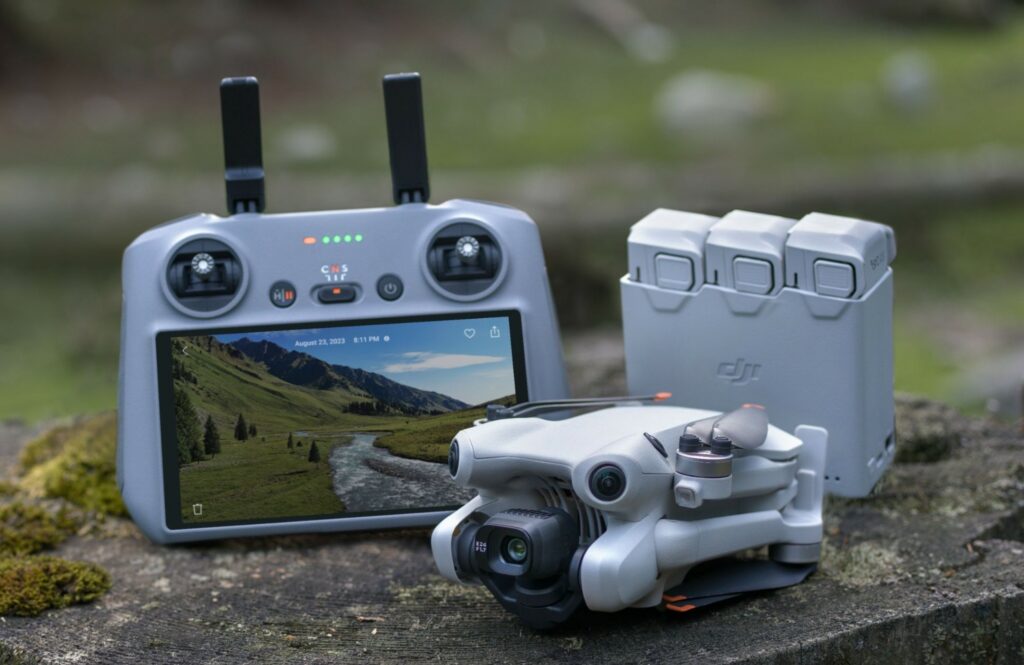 Pricing and Availability
The DJI Mini 4 Pro is available for purchase directly from DJI or through authorized retailers at a retail price of $759, which includes the DJI RC-N2 remote controller. Users have the option to purchase the DJI RC2 remote controller for a total retail price of $959. Both options are available as part of the Fly More Combos, which include three batteries, a charging hub, and a shoulder bag, priced at $1099 and $1159, respectively. Notably, the DJI Intelligent Flight Battery Plus is an additional $95 and is not sold in Europe.
With the launch of the DJI Mini 4 Pro, the world of drone photography and videography is set to reach new heights, offering enthusiasts and professionals alike a compact yet feature-packed aerial companion.