by James DeRuvo
When you hear the name Manfrotto, you instantly think of professional grade tripods and fluid heads that have set the standard for photography and videography over the last 50 years. But now you can add media cards to that, as the company is going head to head with Sony with a tough line of SD and CF media cards.
Manfrotto's Pro Rugged Line kicks off with 64GB and 128GB compact flash, SD and microSD media cards with speeds in the UDMA 7, UHS-II V90 and UHS 1 v30 respectively. Manfrotto says that the Pro Rugged line is capable of best-in-class performance in resisting the dangers of all kinds of weather.  Specs are as follows:
SD XC II UHS-II Cards
Read/Write speed: 280MB/s (read), 250MB/s (write)
V90 rating (up to 90MB/s, good for 4K and 6K video)
Temperature range: -25°C – 85°C
Payload: up to 20kg
Waterproof
microSD XC-I Cards
Read/Write speed: 90MB/s (read), 90MB/s (write)
V30 rating (up to 30MB/s, good for 4K video)
Temperature range: -25°C – 85°C
Payload: up to 20kg
Waterproof
CF UDMA 7 Cards
Read/Write speed: 160MB/s (read), 130MB/s (write)
UDMA 7 (Ultra Direct Memory Access) rating (up to 167MB/s and 12ns cycle time, good for 4K video)
Temperature range: 0°C – 70°C
Payload: up to 20kg
NOT Waterproof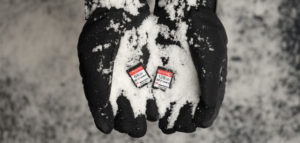 The cards appear to be aimed at the professional photography market, as the storage sizes are a bit small to house 4K and above video. Not to mention that CF seldom used now in the video world. But the SD cards could conceivably handle 4K with read/write speeds of 280GB/s.
It's also interesting to note that the CD UDMA 7 cards aren't nearly as tough in design as the SD and microSD cards, since they are not waterproof.  Manfrotto has also designed these cards without write protect tabs, and offer a sealed off unibody design. This makes them not only weather proof, but also shock proof with an impact force rating 20Kg. Manfrotto also says that the SD cards can remain underwater for up to 72 hours and still be safe to use.
Prices start at $115 for the 64GB SD card, and $225 for the 128GB SD card. The microSD is $32 and $42 and the CF cards start at $80 for the 64GB model. Manfrotto is also offering the SD cards for 50% off right now.
Check it out at manfrotto.com.