2020 is shaping up to be another exciting year for DJI. First they resurrect the Phantom 4 Pro v2 line, and now comes word that three new drone models may hit the shelves as early as February.
One of the new drones has already been launched, and that would be the Mavic Mini. That's kind of a cheat, to include that in this report, I agree.  Additionally, the Mini has run into some problems with some users complaining about disconnects, erratic flying, fly away issues, and Return to Home simply not working. It would make sense that DJI would be holding off with a Mavic Air 2 release to be sure that this issues are corrected in the Mini and aren't an issue in any Air 2 design. Besides, I wouldn't think that the Mavic Air 2 would have hit the market shortly after the Mini. But if a Mavic Air 2 is coming soon, the rumor mill says that it promises a host of upgraded features including improved 4K video from an upgraded Ambarella video processor, longer flight time, low noise propellers, and 360 degree obstacle avoidance.
But according to DIYPhotography, the Matrice 300 will come out in February, followed by the Mavic Air 2. A previous report in October had mentioned that the Mavic Air 2 was to announced by January, but hopes were quickly dashed after the Mavic Mini hit the market that same month.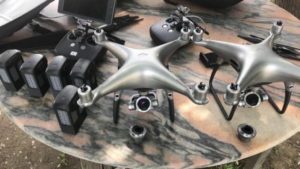 I have another option for an upcoming DJI UAV this year … how about that long rumored Phantom 5 with interchangeable lenses? We all assumed the Phantom 5 was dead because DJI discontinued the Phantom 4 Pro vs. 2 with no follow up model. Then the story came out that DJI had killed the project. But what if that was because of the parts shortage, which has since been solved?  DJI is now free continue the Phantom line and adding interchangeable lenses to the mix would not only be a cool idea for breathing new life into the Phantom line, it would add a revenue stream as well.
Of course, these are only rumors that are going around the drone and camera sites, so we have to take it all with a grain of salt. But we do know that DJI isn't a company to rest on their laurels, so only time will tell what DJI has in store.