Day Two of CES2020 is here and I was wondering just what one company would have in store … RAZER. Known for their out of the box designs, this computer hardware company has come up with a modular PC that users can build easily in a matter of minutes. Meanwhile, Panasonic has showed off a trio of ultra compact 4K camcorders, and Canon's 1DX Mk. III may prove that the DSLR isn't dead. YET.
The Razer Tomahawk
One of the best projects someone can do is build their own computer. It not only gives you the freedom to choose your own components, but you also get a good working knowledge of how a computer works as you piece it all together. The downside is, that you are your own tech support, and with a variety of different products in the build, companies are all too eager to pass the buck when a problem crops up. On the other hand, an off the shelf computer, doesn't really have that great support, unless you pay for the gold level option. That's because the profit margins are so thin, that a company could actually lose money with prolonged tech support added.  Would that there could be something in the middle?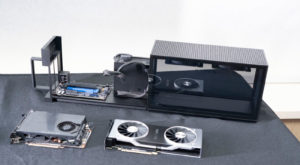 That's where the modular Razer Tomahawk could come in handy. Harnessing the modular power of NUC Computing, beginners can put together a computer to meet their needs in minutes thanks to a plug and play design. NUC stands for next unit of computing, and was invented by Intel to create a compact, yet powerful computer that didn't clutter up your desktop, but that you could affordably use to manage your online workflow. As time has gone on, NUCs have gotten more modular and powerful,, so now you can get an i9 NUC and just about everything that a full size desktop can do.
Razer took that NUC concept to the next level by creating a slide in computer case that would join the Intel NUC, with whatever GPU you prefer, to create a powerful computer. All you do is choose your NUC, with a 9th generation Intel processor and up to 64GB of DDR4 RAM, add a GPU, up to the Nvidia RTX 2080, and then connect them by the PCIexpress slots inside the Tomahawk case. Plug in the power cables and within minutes, you're booting up and going online.  As a demo, Razer showed off the new Intel Ghost Canyon NUC, which has the power to do some seriously graphics applications, including video editing and gaming. 
No talk of price or availability just yet, but we're kinda used to that with Razer. Half the stuff they show off at CES never sees the light of the showroom floor. But something such as the Razer Tomahawk is quite doable, so we have hope that this could fulfill the promise of a NUC, as the next unit of computing. 
Panasonic's Trio of Camcorders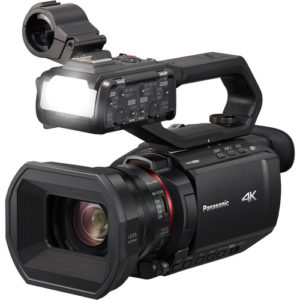 Samsung debuted four new 4K camcorders designed to choose professional, 4K60 video and do it with great mobility and a lightweight footprint. The small design keeps the powerful camera circuitry cool while recording, by a clever airflow design which moves air from the rear of the camera, to the front, where the 4K chip is capturing the images.  The design enables shooters to capture 4K video in a longer form interview format, without the worry of overheating, or overtaxing the shooter.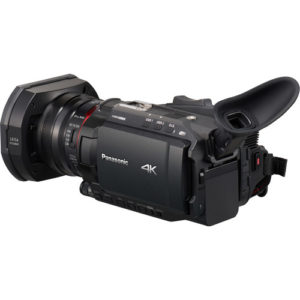 The Panasonic HC-X1500, HCX2000 and AG-CX10 cameras come with a 24x Leica Dicomar optical zoom lens (25mm-600mm equivalent), bootable up to 48x (HD) courtesy of Panasonic iZoom. The four drive lens system can also be controlled manually with both a focusing and zoom lens control ring. Panasonic has also built in ND filters rating from 1/4 to 1/64. The cameras record 4:2:2 10-bit internal recording up to 29.97p in UHD and up 59.94p in Full-HD. H.265 HEVC is also supported. 
Other features include a 3.5-inch pull out LCD with 2,760K-dots of resolution; dual SD card slots; 48-kHz/24-bit high resolution linear PCM audio recording, Wi-Fi, and an optional handle unit that supports dual channel XLR audio input. Lastly, there's a built in LED camera light.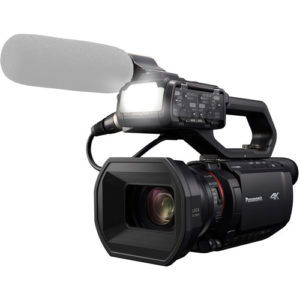 If you look closely, all three models seems wrapped around the same basic video camera body, but with specific handheld features and lenses. Prices are around $2600 for the Panasonic AG-CX10,  $1700 for the Panasonic HC-X1500, and $2200 for the Panasonic HCX2000. All three will ship in March 2020. 
Canon's 1DX Mk. III – The DSLR Lives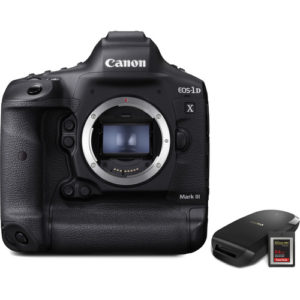 When just about every camera company in the world launched a flagship mirrorless camera system the last few years, it seemed that the DSLR was dead, without the good sense to lie down. Even Canon's CEO said in an interview that the focus of their camera lines would be mirrorless moving forward. But it looks like the demise of the DSLR has been premature, as Canon has started off 2020 with a bang, announcing the latest third generation Canon 1DX Mk. III. And it's the first Canon DSLR to move beyond 4K.
Equipped with a 20.1 MP CMOS sensor, and the latest DIGIC X image processor, the full frame EOS 1DX Mk. III is cable of shooting Raw video at 5.5K at up to 60fps, 120fps in FullHD. It also offers 16fps burst mode, or up to 20fps in Live view. Shooters can capture up to 1000 images in burst mode, writing to CFExpress.
Raw video capture is internal or via DCI at 340 Mbps using 10-bit Canon HEVC (H.265) log recording, but that's expandable to 1,000 Mbps in All-I mode, or at 12-bit 5.5K RAW 60 fps at up to 2,600 Mbps or 325 MB/s).
The DIGIC X is over three times faster than the processors in the 1DX Mk. II. The image sensor is designed for low noise and higher image sensitivity so that it can enjoy solid low light performance. The Canon AF Sensor is completely redesigned to harness artificial intelligence for both face and head detection. 
Lastly, WiFi support enables shooters to capture images and push them to their smartphone or tablets while out in the field. There's also a built in gigabit ethernet port, and an optional Canon Wireless File Transmitter for connecting securely to your computer. 
check out Peter McKinnon's hands on here:
Canon calls it the most powerful DSLR they've ever built, and it looks it.  Shipping in mid-February 2020 for $6,500 (body only) but if you pre-order, you get a free 64GB CFexpress card and card reader valued at $200.
Time to hit the floor for more! Stay tuned.