Day 3 of CES still finds plenty of cameras to see, including a modular action camera from Insta360 that could actually challenge GoPro's dominance in the ACam space. If they can get their software locked down. Then, Nikon finally shows off the long overdue successor to their D750 full frame camera, the D780. But is it just a Z6 with a mirror in the way? And there's a $250 LED Lighting kit that may be all you need if you're a beginning filmmaker.
Insta360 One R
The Insta360 is known for it's 360 degree cameras, which promised to give users an immersive view of the world from just about any angle. The affordable price for 360 video made it quite popular, but unfortunately, it's camera software has always been a bit buggy and the 360 video quality, while improving, simply isn't up to snuff. But the real downside of 360 video is … well 360 video.  Who wants to watch with their head on a  swivel? So it looks like Insta360 is starting to expand into the action camera realm, with their modular One R concept.
What's cool about the One R is that it has a bottom mounted battery, which users can then mount a camera lens module, and a reversible LCD screen module. Or, they can swap out for Insta360's bread and butter 360 video lens array, or even a 1″ sensor with a Leica wide angle lens. The LCD, or core module, also houses the camera's power and record buttons, USB-C port, and microSD card slot. But what's interesting is, that the core module can be flipped around to allow the LCD to be seen in a selfie configuration, making it great for vlogging.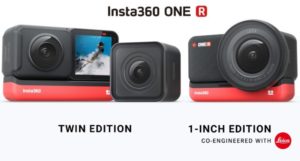 The One R is capable of shooting 4K video at up to 60 frames per second, while the 1″ Leica option amps that up to 5.5K. The twin 360 module also 5.6k video and 6K stills. The One R also shoots in RAW, has several GoPro style feature like "invisible selfie" mode, 8x slow mo, and a 6 axis super smooth feature known as Flowstate.  No word on battery life, but you can get the optional boosted battery for twice as much to get you through the day, although the downside it, it won't fit inside the GoPro style mounting enclosure.
Additionally, the One R is waterproof with an IPX 8 (depth of up to five meters), but I overheard an Insta360 executive says that it may be able to go deeper, perhaps even IPX 10.  And it doesn't matter what configuration you place the modules, the camera still stays waterproof. That's wild.
Pricing starts at $299 for the standard One R wide angle model, which is very competitive with GoPro and DJI's action cameras. The one inch Leica model will set you back $549, and the dual lens model is $399.
Nikon D780

Five years after launching their flagship DSLR the D750, Nikon has finally released its followup in the D780, and like Canon before it, the camera company seems hellbent on saving the DSLR space for their die hard shooters who will not move to the mirrorless Z6. But what the D780 is, in reality, may be a Z6 with a mirror and a standard Nikon mount. The D780 finally offers a 24MP sensor, and Expeed processor for shooting 4K video at 60fps, and finally offers Raw through Nikon's N Log codec. Unfortunately though, the 10-bit option is only available through an external recorder. Man, that is so 2017.  There's HDR support through hybrid log gamma (HLG).
Other features include an articulating LCD screen, external mic and headphone jacks, miniHDMI, USB-C, and dual SD slots? That's a bummer. It should be CFExpress.  But what is interesting is, that in live view mode, the D780 acts very much like the mirrorless Nikon Z6 with a 273-point AC system, leaving many to wonder why they didn't just make the whole camera mirrorless and be done with it.
Price for the D780 is around $2297 for the body only, and it ships later this month.