Well, after a few days downtime dealing with "convention crud" from CES, I'm back in the saddle and am ready to share this fun gadget from KesslerCrane, which will enable you to use the batteries from any DeWalt Cordless tool to power your camera, lights, or even charge your mobile devices. It's called the Mag Max 3A and it could be your next best friend on, or off, the set.
The Mag Max 3A was developed to fill a void in the market for an inexpensive battery solution with a readily available common battery that can be found in almost every country in the world and at most hardware stores.  We wanted an affordable solution designed to be a problem solver for anyone who has had power needs in the field and remote areas. The Mag Max 3A is a perfect solution for Kessler motion control users but also for anyone looking for an alternative, reliable and affordable power solution.   – Kessler.com

Designed to fit the DeWalt 20V Max and 60/30V Flex Volt batteries, the Kessler MagMax 3A Battery adapter offers power to just about anything you need to run that can accept up to 20v. It comes with a Lemo2 pin, 5.5mm female connector, D-Tap connector, and can charge multiple USB devices, and even your cellphone.


The Mag Max 3A also has 1/4-20 and 3/8 tapped pass through holes for attaching to cheese plates, tripods, camera cars, and anything else with a standard 1″ on center hole pattern. It also comes with an optional V-lock kit for attaching V mounts, as well as a Gold Mount Stud Kit, and there's even an optional attachment for attaching to a camera strap or belt.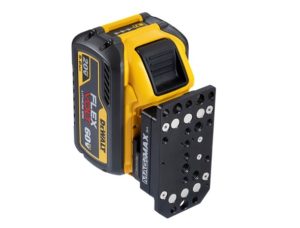 The Mag Max 3A can provide power from DeWalt 20v batteries to most camera platforms directly, with the exception of those with higher than 3 amp draw, like all RED DSMC 2 cameras, or Blackmagic's URSA line. But you can use it to drive DSLRs, mirrors cameras (through a battery dummy connection), follow focus systems, monitors, LED lights, and more.
Specs include:
Works with DeWalt 20v Max and 60/20V Flex Volt batteries
Power connections: 14.4V 3A on a Lemo 2 pin, a 5.5mm female connector, D-Tap connector, and 5V USB
1/4-20 and 3/8-16 tapped and pass-through holes
Neodymium Magnets embedded into the bottom to attach to all Kessler MagLink products
Optional V-lock and Gold Mount Stud kit, as well as belt clip attachment
Price of the MagMax is regularly $249, but it's currently on sale for $199.99. The optional V-mount Kit is another $20.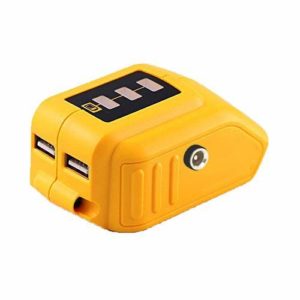 But that isn't the only game in town. DeWalt has their own MAX USB power adapter for $40, which provides dual USB connections, and there are after market versions on Amazon, for $22, which will provide the 12v 2A connection as well. But you'll have to figure out how to mount it, since it doesn't come with any pass through cheese-plate, or V mount connections. A hint on this though. Make sure you take the adapter off after you are done, as leaving it on for extended periods of time could kill those DeWalt batteries stone dead and un-rechargeable.
It's a very cool option. Check out what Mythbuster Adam Savage did with his: