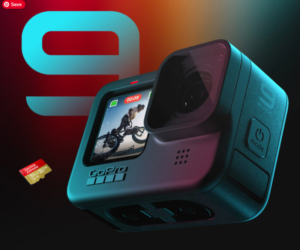 GoPro's latest Hero9 action camera has much more 5K video for shooting those iconicaction sports videos in mind, thanks to a new front facing camera and the ability to use it as a webcam. But there's also a new ultra wide lens mod that means one thing … interchangable lenses are finally coming to the Hero line.
First, for all the spec hounds out there, the new GoPro Hero9 now offers 5k/30 and 4K60 video, plus up to 240 frames per second for 8X slow motion. It's also capable of live streaming in 1080p, can be used as a webcam for those Zoom calls, and can shoot 20MP stills with bursts of 1.5 seconds so users can find their best still image. Think of it as GoPro's spin on Apple's Live View still image technology. Other cool features include GoPro HindSight, which records up to 30 seconds before you even hit the record button. This guarantees you won't miss the shot if you hit the red button too late.
There's also HyperSmooth 3 which GoPro is so confident that users will love, that they sent an R/C car to select media types to test it out. Frankly, HyperSmooth was pretty rock solid to begin with, but it's also cool that GoPro isn't resting on their laurels and just calling their digital image stabilization feature "good enough." They keep at the algorithms, to smooth out the image as much as possible. GoPro also continues to refine horizon leveling, first introduced in the Hero8, which finds the horizon and locks onto it, so no matter what position you find yourself in with your camera, the image is always right side up.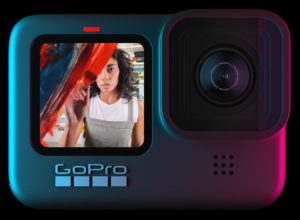 For Video Bloggers, GoPro has finally added a front facing LCD screen, which gives users the ability to properly frame their image when recording a vlog, going live streaming, or just staying completely in frame when doing those Zoom calls. Last thing anyone wants is to look like a noob because half their face is cut out of the frame.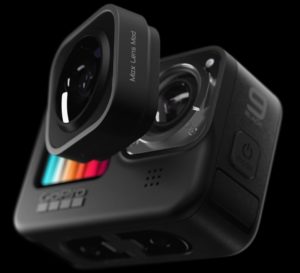 GoPro also began paving the way for interchangable lenses in the Hero8, with a removable lens design that still retains waterproofing down to 33 feet. That change in the last generation is now yielding dividends as the Hero line gets a new Max Mod superview lens option. It's GoPro's widest lens yet with an ultra-wide 155˚ FOV. Users can merely twist off the stock lens and twist on the MaxMod for those super wide shots and still get hypersmooth videos and other features that the Hero9 brings to the party.
Price of the GoPro Hero9 is $349.98 ($350 in disguise). GoPro still has to contend with cheaper knockoffs that under cut their price, but you get what you pay for. Consider this though, the Hero9 also comes with a one year membership to GoPro.
Ironically, if you forgo the one year subscription, the Hero9 goes up to $449. So you're not only enjoying unlimited photo storage, total camera replacement insurance, and up to 50% off merchandise purchased from GoPro online as chief perks, but the Hero9 actually costs $100 less! It's almost backwards from what camera geeks would expect.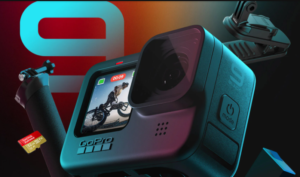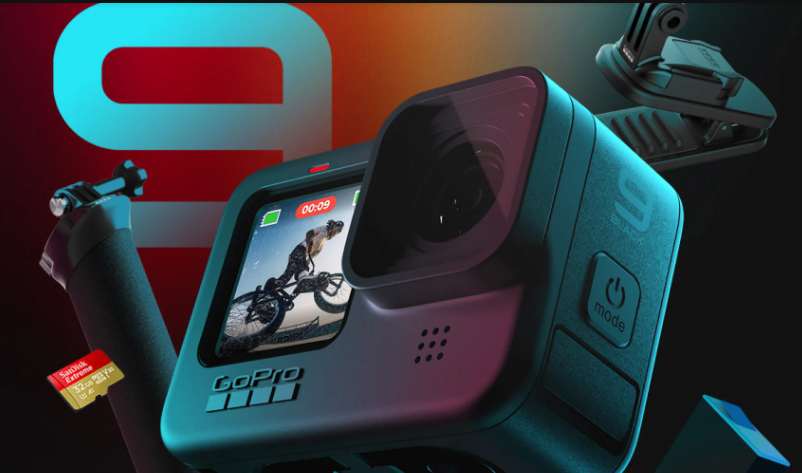 Buying the bundle is an even better bargain, with Floating Hand Grip, Magnetic Swivel Clip, spare battery, and a 32GB SD card. Price for all that, plus the Hero9 Black is $399.98. As for the Max Lens Mod, that's a slam dunk for $99, although I'm holding out for a 2x or longer lens mod down the road.
Do you need the GoPro Hero9 if you already have a Hero 7 or Hero 8? Well, that depends. If you want to grab those sweet action shots only, then I would say maybe not. Though I will say that Horizon Leveling makes a good case for YES, especially when using the Max Mod lens.
I'm not sure how, but the Max Mod Lens far surpasses the rates degree shift that GoPro states before horizon leveling begins to fail. In fact, with the Max Mod, it doesn't!
In spite of bumping the video up to 5K, it's not really going to be that much better video than your 4K Hero8, or even Hero7. HyperSmooth 3 is a benefit sure, but if you were happy before, It's hard to imagine that the Hero9 would make you see what you're missing. And I would imagine that the Max Lens Mod will work on last year's model.
HOWEVER, if you're branching out into vlogging, or think the idea that you can now professional frame yourself for that live stream or zoom call is vital, then that front facing LCD screen will sure come in handy.
More info can be found at gopro.com.