In a rapidly evolving content creation landscape, RØDE presents the Wireless Pro Microphone System, a solution that combines advanced features with ease of use. Let's explore the key features of the Wireless Pro:

Compact and Functional
The Wireless Pro is a compact dual-channel wireless microphone system designed to offer versatility without compromising audio quality.
Unmatched Audio Quality and Reliability
RØDE's Series IV 2.4 GHz digital transmission with 128-bit encryption ensures that your audio remains crystal-clear and stable, even at distances of up to 260 meters (850 feet) under direct line of sight.
With 32-bit float on-board recording and 32GB internal memory, the Wireless Pro allows for uninterrupted recording of up to 40 hours.
Advanced timecode capabilities streamline audio synchronization during post-production, saving you time and effort, while intelligent GainAssist technology provides flexible output gain control, and a safety channel so that your audio remains clear when recording directly to your camera. Using a special algorithm, Gain Assist makes micro-adjustments on the fly which prevents clipping to ensure audio is perfect when you need it.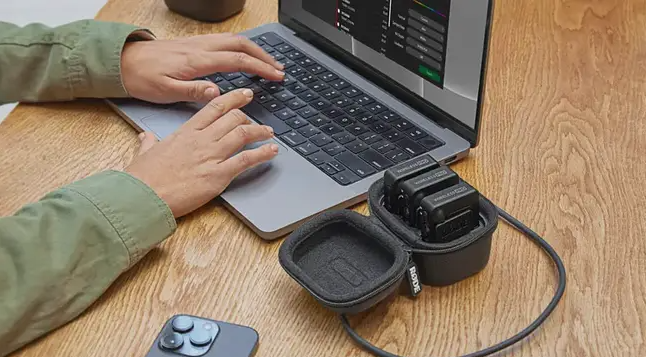 Secure Connectivity and Monitoring
The Wireless Pro features locking 3.5mm Lavalier connectors to keep your setup secure throughout your recording sessions. The headphone output with onboard level control allows for easy audio monitoring.
Multi-Channel Recording
The Wireless Pro supports up to three audio channels simultaneously using the TRRS input on the receiver, ideal for capturing multiple perspectives.
Extended Battery Life
Battery life for the Wireless Pro is impressive with a 7-hour capacity, plus two additional recharge cycles courtesy of the charging carrying case for a total of 21 hours of battery life. There is also plug-in power detection which gets phantom power from the camera,  keeping you ready for longer recording sessions.
Speaking of the carrying case. It also provides a high-speed data connection via USB for faster uploads to your computer.
Affordable
At a retail price of just $399, the Wireless Pro comes with a comprehensive accessory kit, including a smart charge case, two Lavalier II microphones, cables, MagClip GO magnetic mounting clip, and an accessory case.
The RØDE Wireless Pro Microphone System marks a significant stride forward in wireless audio technology. It offers a compelling combination of advanced features at an attractive price point.